Free Assisted Living Guidebook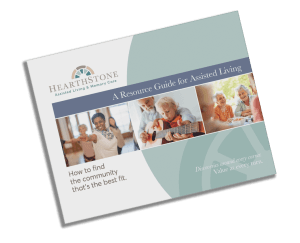 Embarking on the journey to assisted living is a significant decision that we understand requires thoughtful consideration. That's why HearthStone at Nona Lakes is thrilled to offer you our comprehensive Assisted Living Guide. This guide is designed to provide valuable insights and guidance as you take the important step toward assisted living.
At HearthStone, we're dedicated to fostering an environment where residents not only receive compassionate care but also experience a vibrant and fulfilling lifestyle. Our goal is to provide families with peace of mind, knowing their loved ones are in the best of hands. Join us on a journey where you'll discover the warmth, care, and sense of belonging that await you at HearthStone at Nona Lakes.
Complete the form below to download our resource guide.
The Significance of Assisted Living at HearthStone at Nona Lakes
Assisted living is a decision that holds profound importance for both seniors and their families. It signifies a commitment to a life that remains vibrant, fulfilling, and dignified, even as personal care and support needs evolve over time. Within our Assisted Living Guide, we delve deeply into why choosing assisted living is a decision of great value. Discover how it can enrich the quality of life for you or your loved one.
Navigating Life's Transitions: From 55+ Communities to Assisted Living
Transitioning from a 55+ community to assisted living marks a significant life change, and we recognize the importance of this journey. In this section, we explore the considerations, emotions, and practical steps involved in making this transition. Our aim is to provide you with the guidance and support needed as you navigate this unique chapter of life at HearthStone at Nona Lakes.
Our Approach to Assisted Living
At HearthStone at Nona Lakes, our approach to assisted living is firmly rooted in the belief that each individual is exceptional and deserving of personalized care and attention. In this section, we delve into the core philosophy and principles that drive our dedicated team. We are committed to delivering the highest level of care and support to our residents, recognizing and celebrating the unique qualities that make each individual special.
The HearthStone Difference
What sets HearthStone at Nona Lakes apart from other assisted living communities? Explore the distinguishing features that define the HearthStone Difference, from our unwavering commitment to resident-centered care to the inviting and homely environment we provide. Immerse yourself in the culture of warmth and compassion that truly makes HearthStone at Nona Lakes a place residents are honored to call home.
Elevating Life with Exceptional Services and Amenities
HearthStone at Nona Lakes transcends the concept of merely receiving care; it's a vibrant community where residents are encouraged to savor life to the fullest. Our services and amenities are thoughtfully designed to bolster residents' daily lives, promoting engagement, independence, and overall well-being. Dive deeper into the array of offerings that make HearthStone at Nona Lakes an exceptional place that is home.
Crafting Personalized Care Plans for Your Distinct Needs
Embarking on your assisted living journey marks a significant step, and the process of selecting the ideal care plan is of utmost importance. At HearthStone at Nona Lakes, we deeply understand that each resident is a unique individual, characterized by distinct needs and preferences. It is this profound understanding that drives us to illuminate our steadfast commitment to personalization.
Within the nurturing environment of HearthStone at Nona Lakes, we offer a range of care levels, ensuring that we can address your specific requirements with precision and compassion. We do not believe in a one-size-fits-all approach. Instead, we engage in close collaboration with both residents and their families to meticulously craft tailor-made care plans. These plans are meticulously designed not only to fulfill your care needs but also to provide support that aligns seamlessly with your personal preferences, ensuring that your HearthStone at Nona Lakes experience is one that honors your individuality.
Complete the form below to download our resource guide.